The
strategy
presented in this post it is one of the simplest and it can be used on currency pairs with medium volatility and low spreads like: EURUSD, GBPUSD and USDJPY. The recommended time frame is 5 minutes. The systems is a combination of candlestick patterns, which offers reversal signals, and the Relative Strength Index (RSI), which announces market exhaustion in overbought and oversold signals.
The candlestick pattern preferred for this scalping strategy is the Shooting Star. It announces a reversal of the power from the bulls to the bears. This pattern should be searched only on the highs of a trend, it is a bearish signal and it doesn't matter the color of the candle.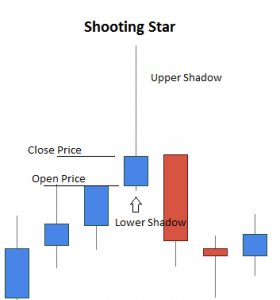 The RSI used it is recommended to have 14 periods. If the number of periods is too small it will give many but of low quality signals, while if the number of periods will be higher the quality of the signal could improve, but the number will drastically drop.
Let's get to the practical part of the trading. There are 2 scenarios that you could look for:
Look for a Shooting Star, drawn after a strong move, and for the RSI to get into the overbought area. If you get both signal from the RSI and confirmation from the candle stick pattern, open a sell order on the opening of the next candle after the formation, set a stop loss order above the Shooting Star's upper shadow and a Take profit at 50% of the previous rally.......
*****
Building Systems That Create Wealth******
"Content is not King. Conversations around content used to be King. Now, sharing content is King" (Long live the King) - Steve Goldner
USD JPY 2/2/2018 SEll 110.45 tp 110.120